Beautifully printed marketing materials for your business are within easy reach when you work with Brumley Printing! When you need large quantities of a printed piece, offset printing provides accurate color reproduction, and crisp, clean professional looking printing. Whether you need business cards, brochures, pocket folders, rack cards—you name it—the offset printing process from start to finish follows the same cycle. We will guide you and keep you updated throughout the entire process. Our team at Brumley Printing in Fort Worth, Texas provides superior customer service. Clients trust Brumley Printing for quality printed pieces at competitive prices for over 30 years.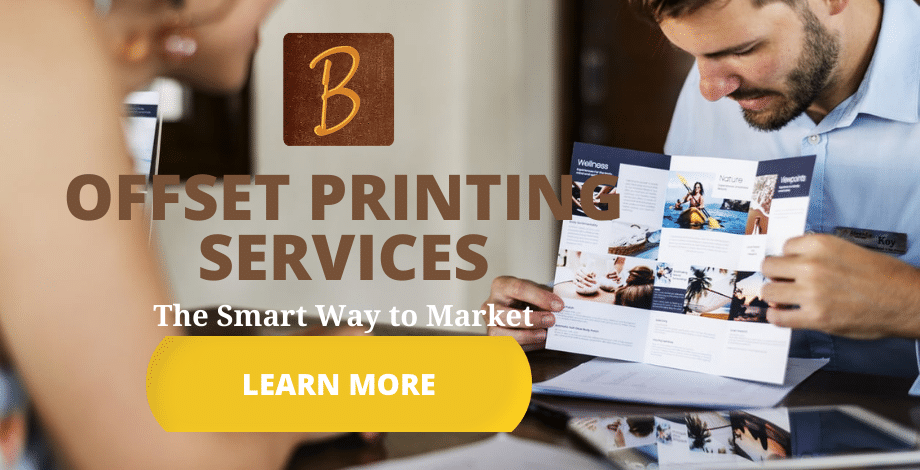 Step 1: Design
Whether you send us your artwork, or we provide creative services for you, all great printing jobs start with a great design. In this part of the printing process, decisions are made regarding color, layout, font, paper type, coatings (UV, matte, for example) etc. Even if you design your artwork, we are here to help with questions and expert advice to ensure that your final product represents your brand.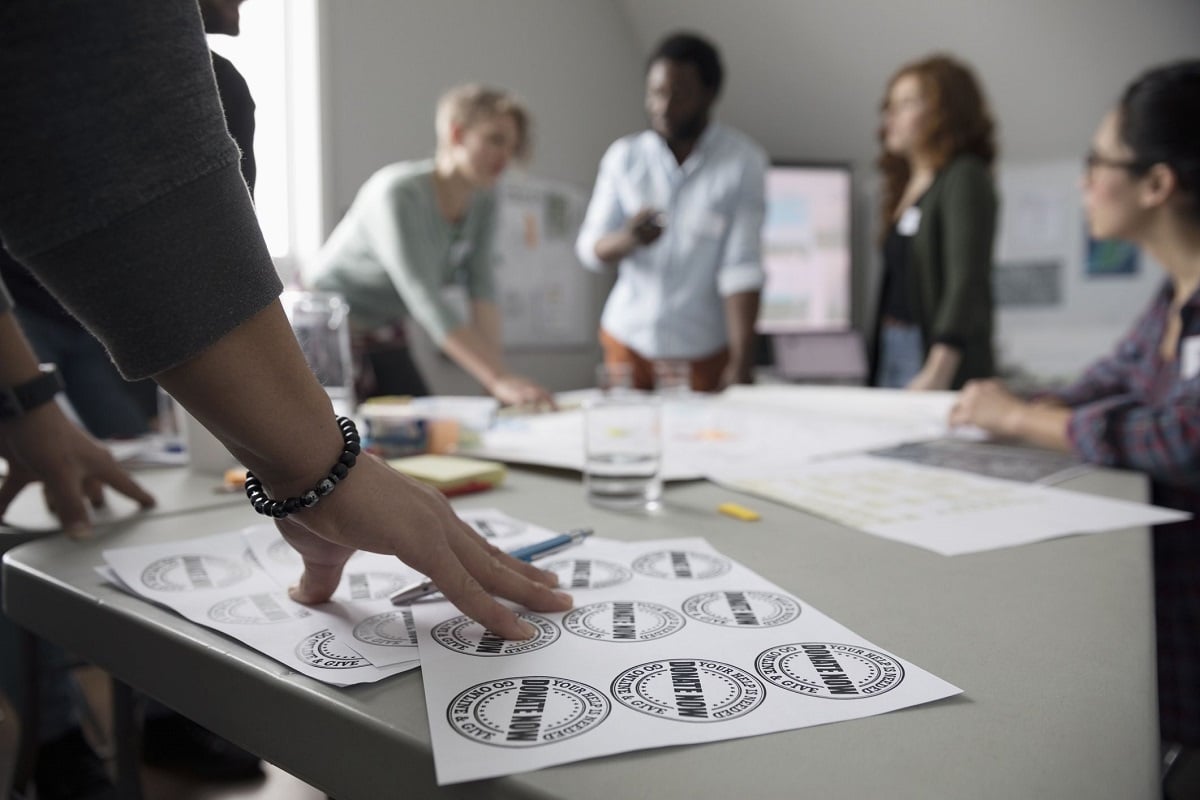 Step 2: Estimate
An estimate may happen concurrently with the design process, or once you know the specifications of the item being printed. If we are designing artwork for you, this quote will include graphic design fees. To learn more about what information is needed for the most accurate price estimates, read our blog on print specifications.
Step 3: Prepress
The next step in the printing process is prepress work. Your digital art file is made into a proof, showing what the final printed piece will look like. Today, most proofs are sent to clients digitally as a PDF. This is sometimes called a soft proof or an eProof. Clients can then review the PDF for spacing, color, typos. This is the time to make any changes.
For some print jobs, especially when color needs to be matched precisely, or a new element (paper, coating, etc.) is being utilized, a hard-copy proof may be helpful. A hard copy high-resolution prepress proof gives a more accurate indication of how the final printed piece will look.
Finally, if offset printing, we make plates. This blog explains the differences between offset printing and digital printing.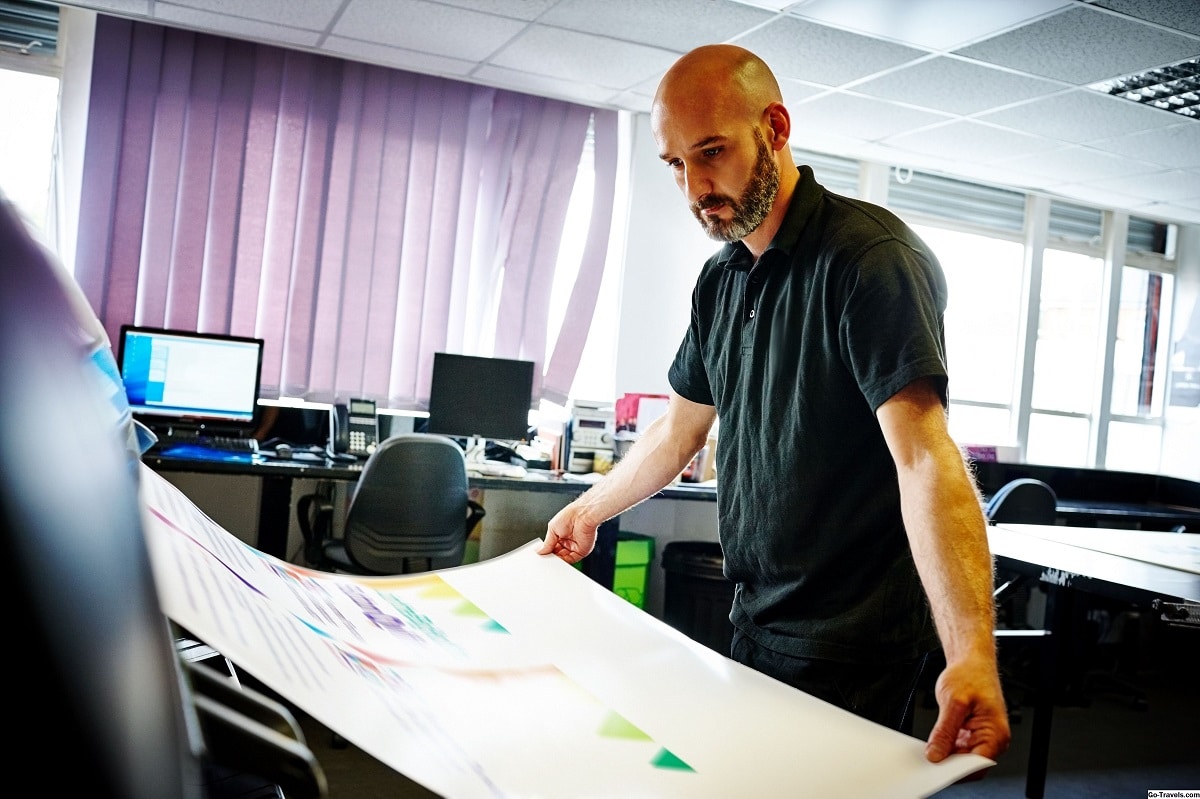 Step 4: Printing
This is the step in the offset printing process in which your printed materials are produced on press. During offset printing, we do not transfer color directly onto the paper. We use aluminum plates to transfer the artwork onto a rubber blanket. We then roll the image onto a sheet of paper. Offset printing leaves high-quality prints with accurate color, crisp and professional-looking results. Offset is one of the best among printing options.
Step 5: Bindery and Finishing
During this step, we trim, fold, score, hole punch, batch, collate, etc. your printed materials to match the specifications for the final product. Your brochure will look like a trifold brochure and note pages will be glued into note pads. Final printed items will also be carefully boxed up for delivery.
Step 6: Delivery
The final step in the printing process is to deliver the printed pieces to the client. Or, if a direct mailing or fulfillment piece, they are dropped mail to the recipients. It is always exciting to see the results and rewarding to hear from our satisfied clients!
Next Steps
Now that you know more about the 6 steps in the printing process, it's time to find out how it can work for you! Contact Kirk Brumley or call (817) 336-5551 to schedule a free consultation to find out more. We have been trusted by Fort Worth for over 30 years. Our customer service and expertise will exceed your expectations.