Both new and established businesses can benefit from custom printed door hangers as a marketing tool. Why? Door hangers—just like an actual person knocking on the front door—get noticed. Custom printed door hangers are a direct, low cost, and effective way to communicate with potential customers and promote your business. They are viewed and handled by residents, that is your potential customers, in your targeted geographical area.
Companies and Industries
Industries and businesses that can best utilize door hangers include:
Restaurants
Home maintenance, remodeling, and repair
Insurance
Landscaping
Auto care
Pet care
Self-care services, such as hair stylists, spas, and personal trainers
Banking, financial services
And more!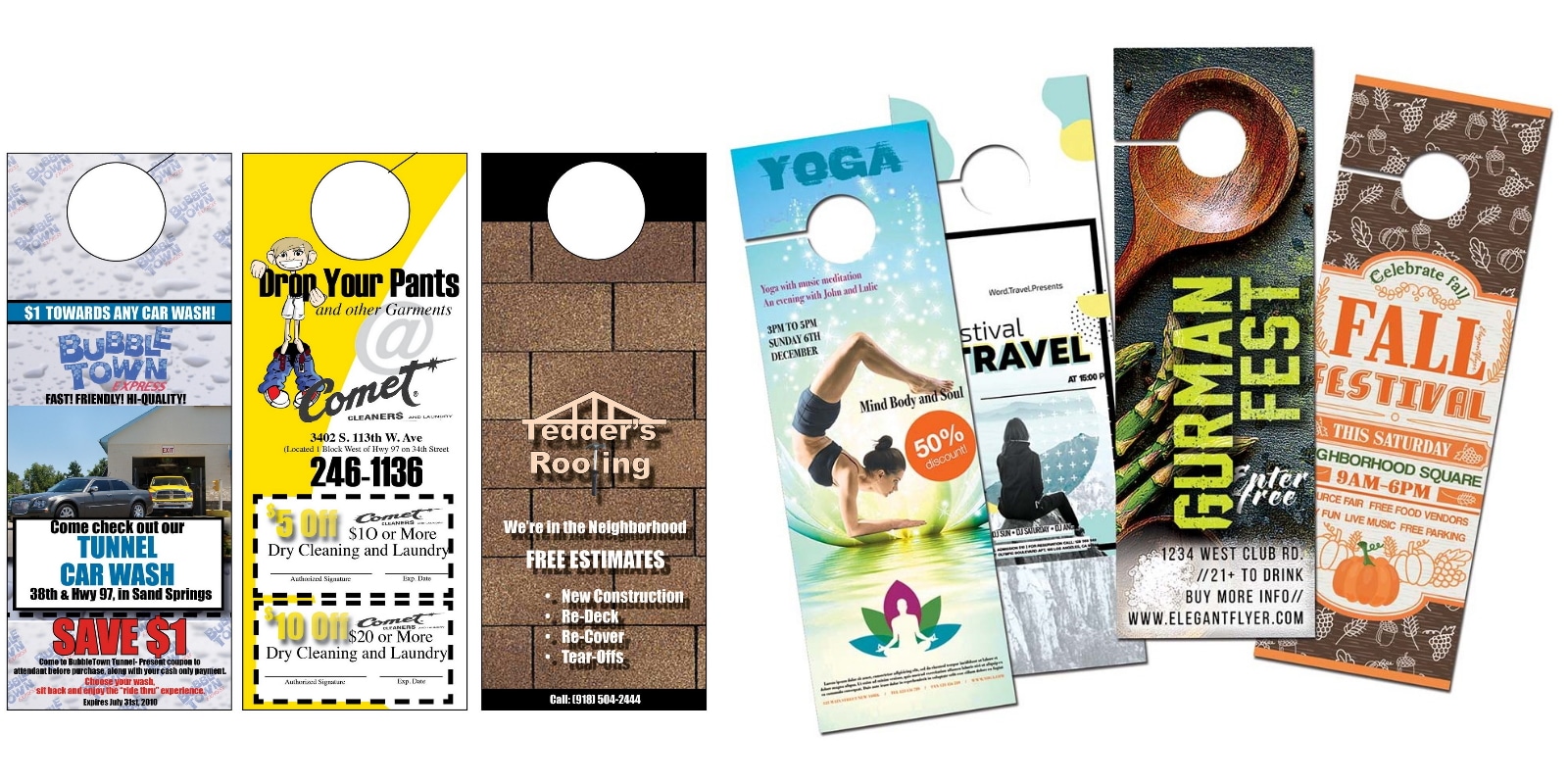 Why Door Hangers Help
7 helpful features of quality, custom printed door hangers as a marketing strategy include:
1. Simple, straight forward, and affordable.
Door hangers do not require stuffing, stamping, or folding. Thus, they are less expensive than many other promotional printed materials. As soon as they are printed, they can easily be distributed to targeted neighborhoods.
2. Visibility.
Door hangers do not get mixed up with other items in a pile of mail. Even with alleys, everyone needs to open their front door to get packages, welcome guests, walk the dog, etc.
3. Geo-targeted locations.
You will be able to learn which neighborhoods respond the most to your marketing.
4. Size.
The size of door hangers allows for a substantial amount of information to be included. Plus, you can print in full color on both sides.
5. Customizable.
Brumley Printing can advise you on colors, layout, and shape. There are so many choices to make your door hanger represent your business, thus standing out to potential customers.
6. Control.
With door hangers, you control the timing of delivery and distribution. In other words, you can target different areas during different times of the month to track results. Also, you can time distribution with special promotions or holidays.
7. Physical and tangible.
The physical door hanger is seen, handled, read, and even saved by the recipient, therefore making multiple impressions.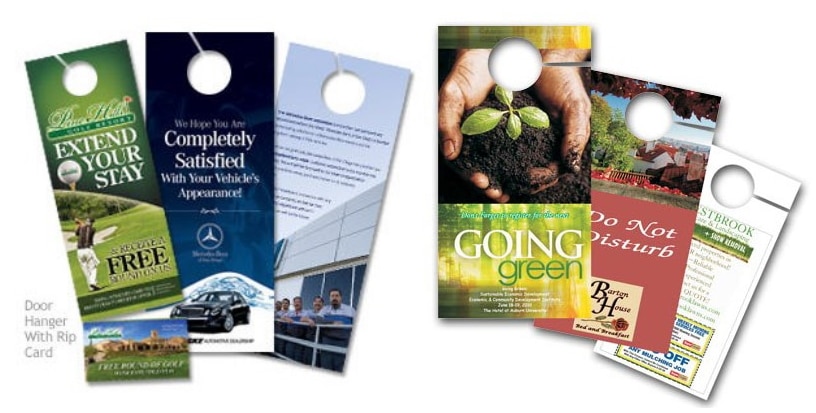 How to Boost Results
Target Audience
First, research the demographics in your target area. Make sure you focus on neighborhoods that will likely use your services. Examples: A pet daycare business will not profit from distributing door hangers to an apartment complex that does not allow dogs. A high-end med spa treatment center may achieve better results from neighborhoods with higher valued homes.
Campaign Goals
Next, define a set of parameters and goals. Decide how many custom printed door hangers you want to distribute. Set a goal for your expected response rate, based on statistical results. That way, you can evaluate if your campaign was successful, while making needed tweaks and strategy adjustments for the next campaign round.
Time Period
Create a campaign that attracts customers within a specific period for measuring beginning and end. For example, offer a coupon with an expiration date.
Design and Format
The design of your door hanger makes a difference. Your audience will be able to see and read more easily bold colors and images, large headlines, and simple messaging. Remember to include a call to action to help with conversions. Also, make sure to prominently display your contact information and business name on both front and back sides.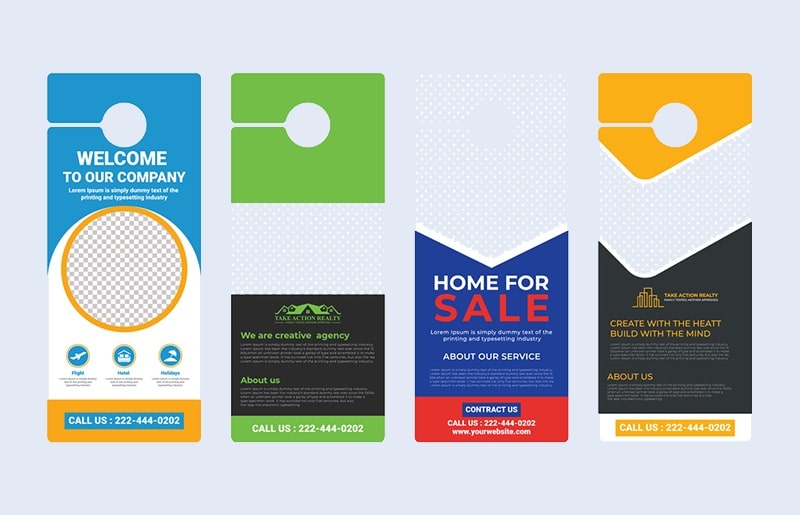 Tracking
Tracking responses is easy if you include unique offer codes or dedicated tracking phone numbers on the printed door hangers. When customers call or redeem an offer, you will know which campaign, or which neighborhood, they are responding from. That way, when you analyze and reflect on the marketing campaign, you will get your response rate and determine its success.
For your next marketing campaign, consider the benefits distributing door hangers to neighborhoods. Choosing a great printer like Brumley Printing in Fort Worth will give you confidence that you are distributing a quality item that represents your brand. Working with a reputable printer will ensure that your door hangers will be done on time. Our printing experts can help with paper stocks, UV coating needs and budgeting. Custom printed door hangers are a great solution for boosting business at an affordable cost!
Custom Printed Door Hangers from Brumley Printing
Are you ready to distribute door hangers for your next strategic marketing campaign? Brumley Printing can help you design and print quality, professional, custom door hangers. For more than 30 years, Brumley Printing has been serving the commercial printing needs of our clients in Fort Worth and the surrounding communities. We look forward to exceeding your expectations with our quality products and premier customer service. To get started (817) 336-5551 or visit our website. 
Need another idea on how to stand out among the competition?