From internet providers to coffee brands in the breakroom, small businesses have many choices to make. Decisions are based on many factors, including cost, convenience, and quality. For printing services needs, there is also a choice to be made between using a local printing company or an online print provider. How does a small business decide where to get business cards, brochures, and other collateral materials printed? Here's a look at the benefits of using a local printing company over online print providers.
Local Printing Company: 10 Advantages
Local printing companies offer many advantages including:
1. Relationship building and superior customer service.
Local printing companies don't have huge call centers with many representatives. Each time you speak to someone at a local printer, you speak to someone who knows about your order. Community print shops get to know you and your business, so you don't have to reexplain your needs, give the same information, or ask the same questions every time with a new representative. With some online print providers, you may never even speak to a live person.
2. Paper samples.
Working with a local printer allows you to see, touch, and compare paper options. You can ask experienced printing service professionals questions to learn about the best paper type, coatings, and other options for your printed pieces. Conversely, when ordering through an online print provider, you need to be an expert in printing terminology to find exactly what you want.
3. Consistency.
Local printers can match your colors and designs when printed on the same stock to protect your branding. Plus, local printing companies monitor the printing process more closely for consistent quality control.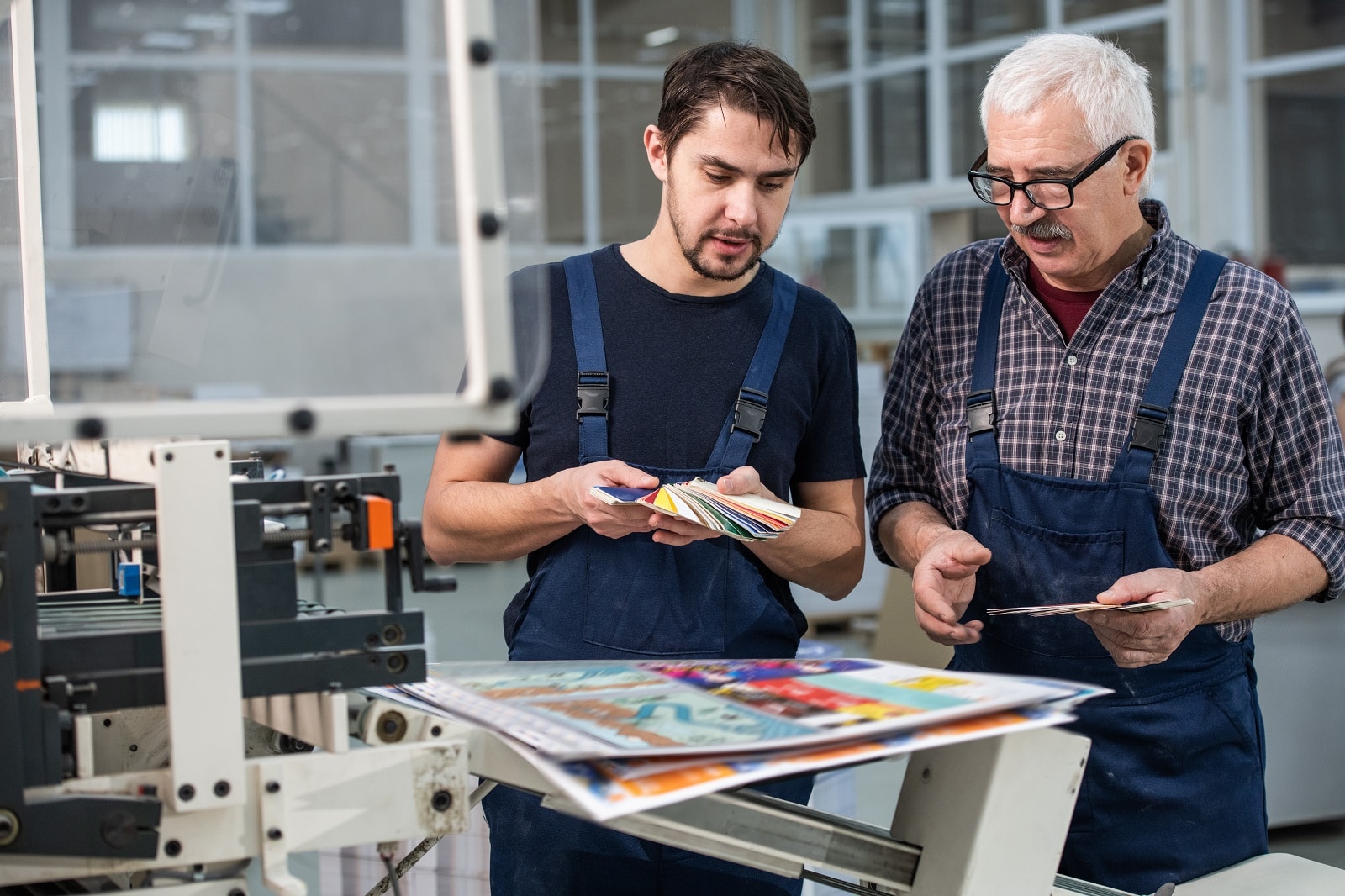 4. More accurate proofs.
Viewing a proof on your computer from an online printing company may not show the true printed colors. Plus, they are not reviewing your proof with a critical eye for typos and other design flaws. The experts at your local printing company will scrutinize your proof as closely as you do, thus catching typos and preventing potentially expensive mistakes. Many local printers will also offer printed proofs for a smaller—if any—fee, and you can avoid shipping costs when you come to pick up your proof.
5. File help.
Navigating the file submission process for an online printer can be daunting. You can only hope your design uploaded correctly when you press the submit button. Your local printing company will walk you through the process if needed. They will also review your file before any printing occurs and make recommendations to improve the final results.
6. Digital uploads.
Like online print providers, most local printers have links to upload files through their websites. This saves time not needing to drop off items to be printed. It also allows you to upload your files at your convenience when outside of standard business hours.
7. File and artwork management.
Local print companies will manage your previous print files and logos so they don't need to be resubmitted for reprints. Plus, the designs will be on hand and easily accessible for future projects.
8. Shorter turn arounds.
Your local print company can get your printed items to you faster, especially when you need it in a hurry. Without the need to ship from a remote location, many print jobs can be done locally. Online print companies often charge extra for rush service and overnight shipping from their remote locations.
9. More services and complex orders.
Many local printers offer full-service printing, from design work to direct mail campaigns to fulfillment. Conversely, online printers end to have set paper stocks, sizes, and types of print orders they handle, but not customizable solutions. When an order has many pieces and is more complex to manage, or requires specific paper stocks and specs, you need a local printing company that can customize the services. A local printing company can provide expertise and complete print marketing services to help your company reach goals and grow.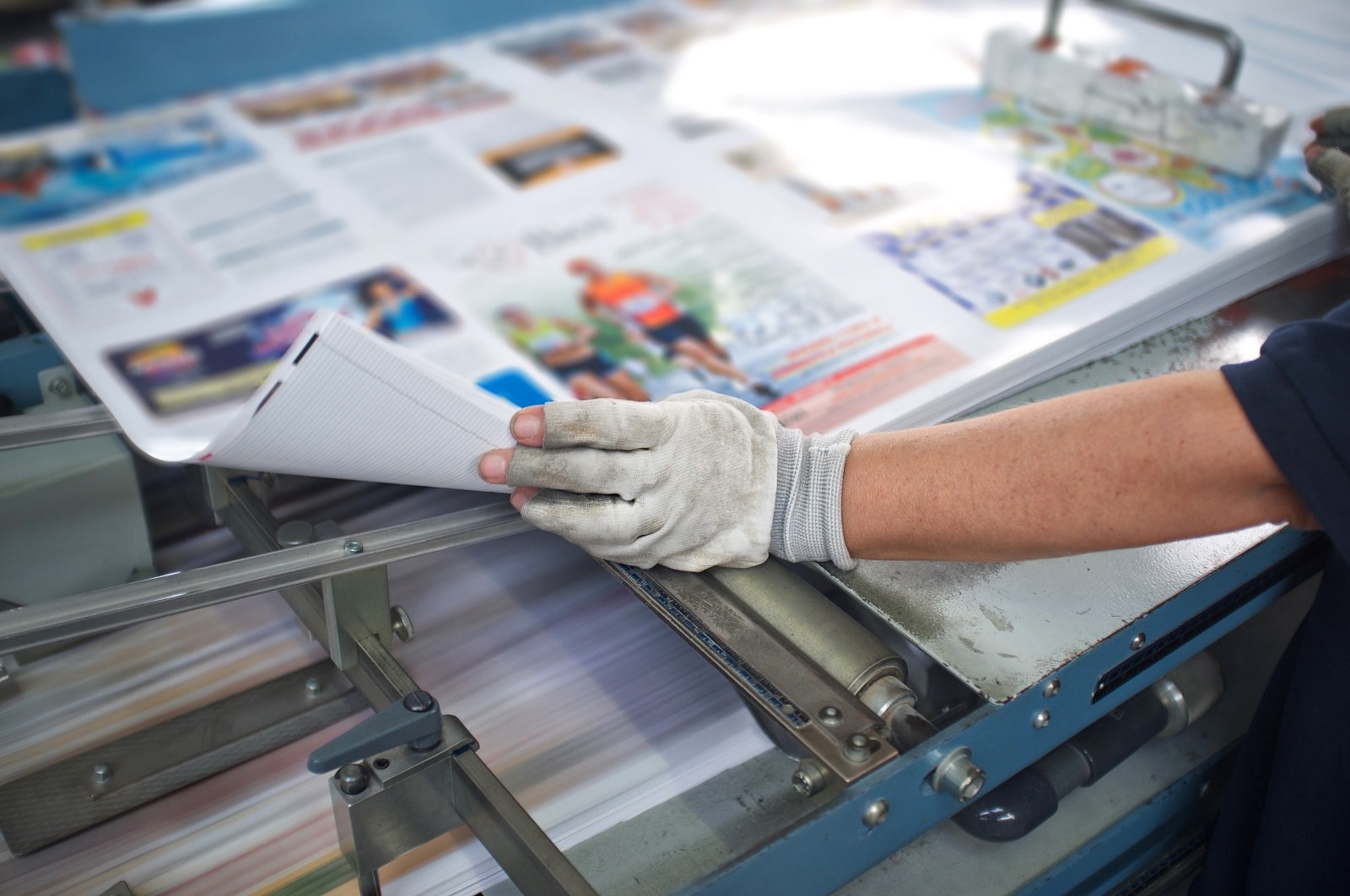 10. Helping the environment and local economy.
There are some residual benefits to choosing a local printing company over one online. First of all, there are fewer carbon emissions since your printed pieces won't be transported from far away. That is great for the environment. Second, by supporting a local business, you are helping your community and local economy.
In summary, an online printer may be your choice if your needs are very simple and standard, and cost is your driving factor. However, a local printing company offers many benefits to small businesses. Plus, by eliminating shipping costs, rush fees and expensive reprints due to mistakes, you may be surprised that the cost for local printers is highly competitive, even better. By using a local print shop, you'll get great customer service, high quality, and consistency. And, as an added bonus, you are helping the environment and local economy!
Get Custom Print Services with a Local Printing Company
Are you looking for a local print company for your small business? Brumley Printing has been the preferred full-service printer of Fort Worth businesses for over 30 years. We are committed to providing unsurpassed customer service and high-quality printing at affordable prices. To get started call (817) 336-5551.