For over 30 years, Brumley Printing has been committed to providing the highest quality commercial printing solutions for loyal clients in Fort Worth. With that comes the constant quest to incorporate innovative technology such as stochastic screening that is easy to use and at the same time powerful enough to capture lifelike images and vibrant colors that bring images to life on paper.
But what is stochastic screening, and how is it different from conventional halftone screening methods?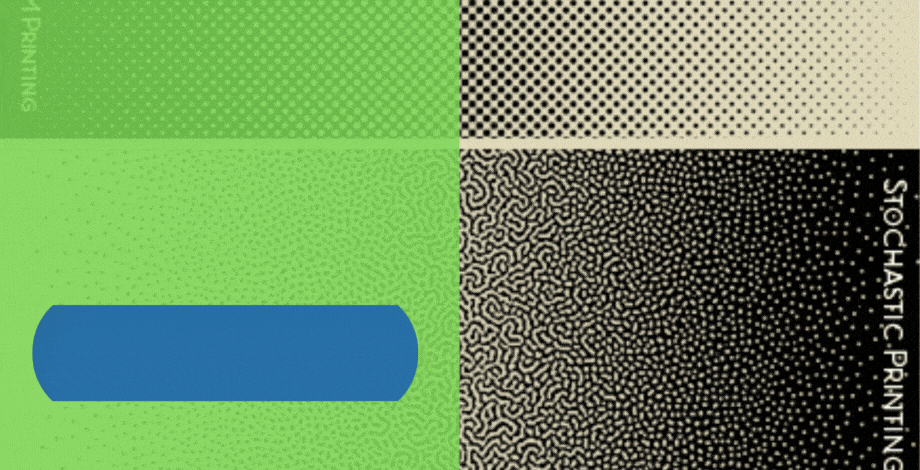 Stochastic screening, also frequently referred to as FM (frequency modulated) screening, developed in the 1970s. Stochastic screening is a commercial printing method that produces more lifelike tonal representations, and a broader CYMK color gamut than traditional halftone, or AM (amplitude modulated) screening does not.
Call (817) 336-5551 to partner with Brumley Printing for all your printing needs!
How Is Stochastic Screening Different?
With traditional printing, continuous tones are transformed into a series of tiny dots that vary in size and density. And the arrangement of these dots determines the perceived tone or color when viewed from a distance. Stochastic screening differs largely—namely in the position and number of dots in each image. Think "fixed" for conventional halftone screen printing and "random" for stochastic screen printing. In fact, the word stochastic means "randomly determined; having a random probability distribution or pattern that may be analyzed statistically but may not be predicted precisely."
In the stochastic screening method, the frequency of dots being applied is increased or reduced in relation to the tonality of the image. This results in higher-quality prints. These dots are also applied in a pseudo-random "weave" pattern which prevents the moiré effect and rosette patterns associated with traditional conventional screening methods. The random dot sizes used in stochastic screening can be as small as 10 micrometers to produce images of comparable quality to photographic prints.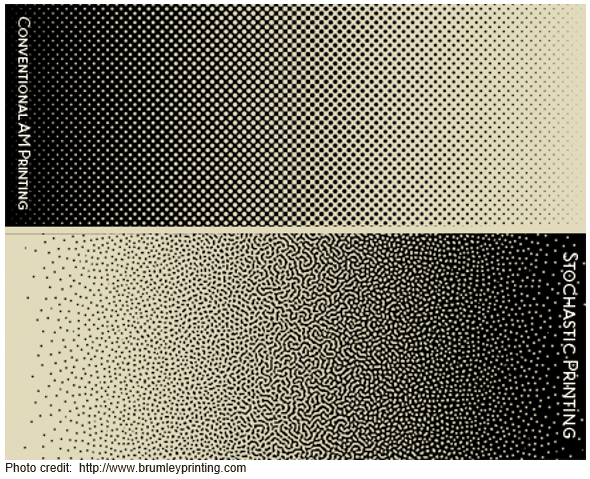 Just a few of the benefits of stochastic screening include:
Improved image quality — Stochastic screening offers more life-like tonal representations and a broader CYMK color gamut. As a result, you get finer details, smoother tones, and a continuous appearance that almost looks like the original image.
Sharpness and detail — This technique prevents the "whiteness" of the printing paper from bleeding through the ink. Also, there is sharper edge definition and enhanced stabilization in high-speed printing.
Ink control — Stochastic screening results in up to 10% less ink usage than traditional screen printing, resulting in improved color saturation and accuracy and more consistent ink coverage throughout each job.
Reduction in visible dot patterns — These imperfections are typically more noticeable in traditional halftone printing, which reduces the overall quality of the finished product.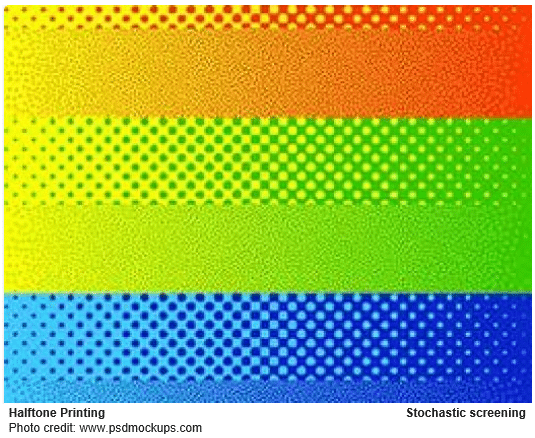 Brumley Printing Knows Stochastic Screening in Fort Worth. Call (817) 336-5551
Is Stochastic Screening the Right Choice for Your Needs?
The answer to this question depends on several factors, including your artwork (solids), the specific artwork to be printed (examples: jewelry, livestock, facials), and the intended use of your printed materials. Stochastic screening does a better job of rendering accurate flesh tones and detail in shadow areas, so if your artwork includes these elements, stochastic screening may be a better choice than traditional screening methods.
When choosing a commercial printer, keep in mind that stochastic screening requires an extremely clean proofing environment because even microscopic dust particles can leave an impression on the proof.
Brumley Printing Is Your Stochastic Screening Headquarters
Deciding whether or not stochastic printing is right for your upcoming printing job is not a decision you need to worry about. Our team members will let you know if they think that stochastic screening, digital, or offset printing is the best choice for your next project.
At Brumley Printing, we understand that commercial printing is a collaborative process. We're dedicated to understanding your unique goals and needs and providing you with the information you need to make informed decisions about the many printing options available. It's that dedication to building long-term relationships that has made Brumley Printing the commercial printing company of choice for local businesses, educational institutions, and civic organizations in the Dallas/Fort Worth area over the past 30 years. To learn more about our services, give us a call at (817) 336-5551.